Travel to Asian countries is growing and there are many destination options for you to come and explore and experience. Maldives is an island nation of groups of very famous atolls that if you have the opportunity, you should not miss.
---
When flying to the Maldives, you will land at Ibrahim Nasir International Airport on a small island, then want to travel through the capital Male or nearby islands to take a public ferry about 10 minutes. Because the Maldives is a collection of many small islands, each island is usually only a few kilometers, so travel here is mainly by boat. There are 3 main vehicles: Public ferry, Speedboat (a type of canoe), Seaplane.
Experience Maldives tourism in Guesthouse, hotel or resort with tours such as Snorkeling (diving to see corals, turtle islands, ..), playing Sandbank (small land in the middle of the sea covered with fine white sand) or Daily tour to the resorts. Tour prices on Maafushi Island are usually the cheapest compared to other local islands, and the prices at resorts are always the most expensive. Here are the island or resort activities you should consider participating in:
Snorkeling and Scuba Diving
Obviously because the Maldives are considered to be the most beautiful places for snorkeling and diving, watching corals, countless types of rich vegetation.
Whale Shark and Turtle diving, also known as watching sharks and sea turtles, usually each will be in a separate area and you have to dive quite deep to see these special animals.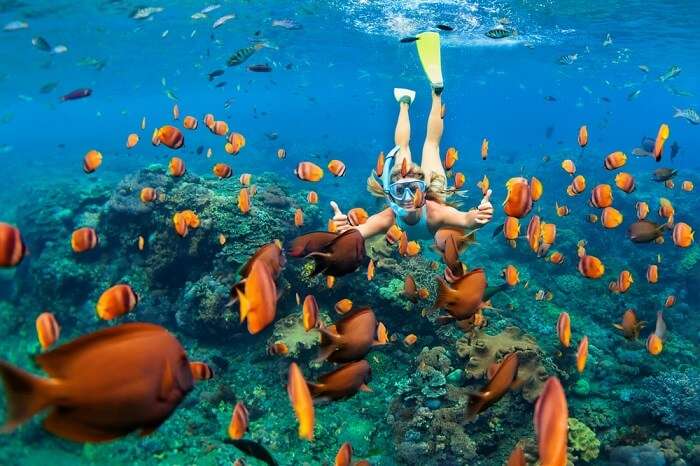 Fishing watching the sunset
It will be quite romantic for the couple, you will be transported to the sea with lots of fish, the number of fishing will be cooked by the hotel chef for free.
Watching dolphins
You will be taken to the sea to see dolphins swimming in groups, they tumble on the water and very evenly like a show.
Moreover, you can go to sand bank to play photography and swimming, go yacht. If you stay at the resort will have some high-end services such as romantic dinner with candles and wine on the beach, dinner on the clear water, boat trips to local islands, massage …
Travel Maldives food here is not very special, mainly seafood and the price is also very high (usually from $ 5-10/meal/person). On the island, they serve both Western and Muslim food, including bread, omelets, seafood rice and Maafushi is still the place with the most dining options. Usually the hotel will include breakfast for you, to save you should bring some food and cook your own, and eat 1 meal/day, especially when staying in the resort with a buffet/person cost of $50 or more.