Tourism Malaysia has now been quite favorable. Typically, tourists often combine tours to Malaysia and Sing into one, because the two countries share a border, even from Singapore to Malay by bus.
---
Today, we would like to share some affordable, self-sufficient travel experience for first time travelers.
The right time to travel to Malaysia
Do you know why Malaysia is called a tropical paradise? That's because the weather and climate here is always warm and humid tropical, giving the ecosystem is very unique, diverse and extremely rich. So you can travel to Malaysia on your own at any time of the year:
From April to September
As the Malay dry season, the average temperature ranges from 29 – 35oC. In the experience of self-sufficient and cheap Malay travel, you should go to tropical paradise at this time, because your play plan will not be affected by the rains, especially this time is suitable. to make an eco-tour and enjoy tropical fruits in Malaysia.
From October to March next year:
It is the rainy season in Malaysia. You may suddenly see cloudy showers while visiting a certain place. So if you come to Malaysia at this time please bring warm clothes, raincoats and umbrellas.
Places to visit on the east coast of Peninsular Malaysia:
Perhentian Island
The island cluster is located in the northeastern part of the Malay peninsula, of which two main islands are the large island Pulau Perhentian Besar and the small island Pulau Perhentian Kecil. These islands are the ideal diving and snorkeling places for Malaysia tourism with the clear sea and abundant coral reefs. Main beaches: On Kecil Island, there is the Pasir Panjang long beach and Teluk Aur coral bay, on Besar Island, there is Teluk Dalam deep bay, Teluk Keke Bay and Teluk Pauh Bay. Some famous diving sites are Pinnacle (Tokong Laut) and Sugar Wreck. For snorkeling lovers, Teluk Pauh, Shark Point and Tanjung Basi are the best places. From Perhentian you can head to Redang Island, another popular spot for scuba diving.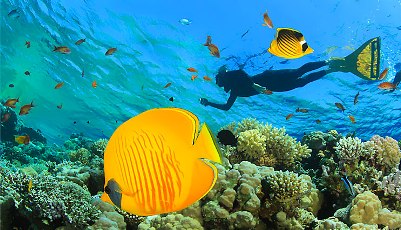 Kuantan
The largest city on the east coast of the Malay peninsula, famous for Malaysia's most enchanting beaches: Teluk Cempedak Monkey Beach, Balok Beach, Pantai Batu Hitam Black Rock, along with other interesting attractions such as the fishing village of Beserah, Snake Island Pulau Ular, Sungai Lembing village with underground tin mines of the world's largest, Panching cave cluster with Buddha sleeping inside, Berkelah waterfall and mosque of Pahang State Mosque.
Fraser's Hill
The hill, located in the state of Pahang, is considered the best place to spot birds, with over 250 types of birds already seen. Attractions include English clock tower, Jeriau Waterfalls and hiking trails such as Hemmant Trail, Bishop's Trail and Pine Tree Trail.